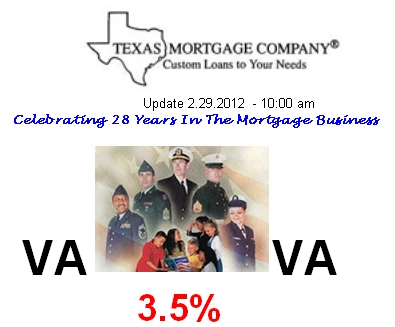 30y fixed 0+0 APR 3.544%
100% LTV
No Down Payment
Up to $417,000
VA Highlights
No Down Payment
No Minimum Reserve Requirements
No Monthly Mortgage Insurance
No Income Limits
VA Funding Fee Is Financed Into Loan
Or Can Be Paid In Cash or By Seller
Seller Can Pay Up To 4% Including
VA Funding Fee, Closing Costs and Prepaids
VA Jumbo Guaranty Program
Call For Details
VA Refinance IRRL Program
Call For Details



TEXAS MORTGAGE COMPANY
6860 North Dallas Parkway, Suite 200 Plano, TX 75024 – TMBL #241 NMLS 273767 – 32320
Steven Miller 972-867-0056 x234
steven@texasmortgage.com
Interest Rate, Points and Programs cannot be guaranteed and are subject to change without notice.
This is not an advertisement for credit as defined by paragraph 226.24 of regulation Z.
All interest rates are subject to Lender Paid and/or Borrower Paid adjustments.
All interest rates are subject to DU/LP Findings and adjustments.
15 year simple fixed rate loan with 20% down payment required on a $100,000 value – effective 10/24/04 –
offer may terminate at any time without notice – rate and annual percentage rate
(APR) calculated on a 365 day year with typical/normal closing costs –
Rates/APRs subject to change with changes in closing costs –
properties and applicants must qualify – other restrictions may apply.
Interest Rates Are For Purchase Only
Refinance Interest Rates Maybe Higher – Please Call or Email For Quote
The maximum loan amount for a conforming loan is $417,000
Jumbo loans start at $417,100 to $2 Million Call For Details.
Interest Rates and APR's are based on loan amounts:
FHA $250,000 96.5% LTV mcs>740 *
Conforming $400,000 75% LTV >mcs740 *
JUMBO $650,000 80% LTV mcs>740 *
VA $350,000 100% LTV mcs>680 *
USDA $250,000 100% LTV mcs>620 *
Points/Fees/Rates may vary for different loan amounts.
TEXAS CASH-OUT has additional adjustments based on loan amount.
Interest Rates Are Based On 30 Day Locks. Please Call For Longer Lock Pricing
Minimum loan $80,000 and may vary depending on loan program.
LOOKING TO BUY OR SELL A HOME NEAR THE SAN ANTONIO MILITARY BASES?
VISIT SANANTONIOHOMEQUEST.COM
(210-863-2661)